Title
Pictures of Lindsey
Publisher
Adrian Knight Music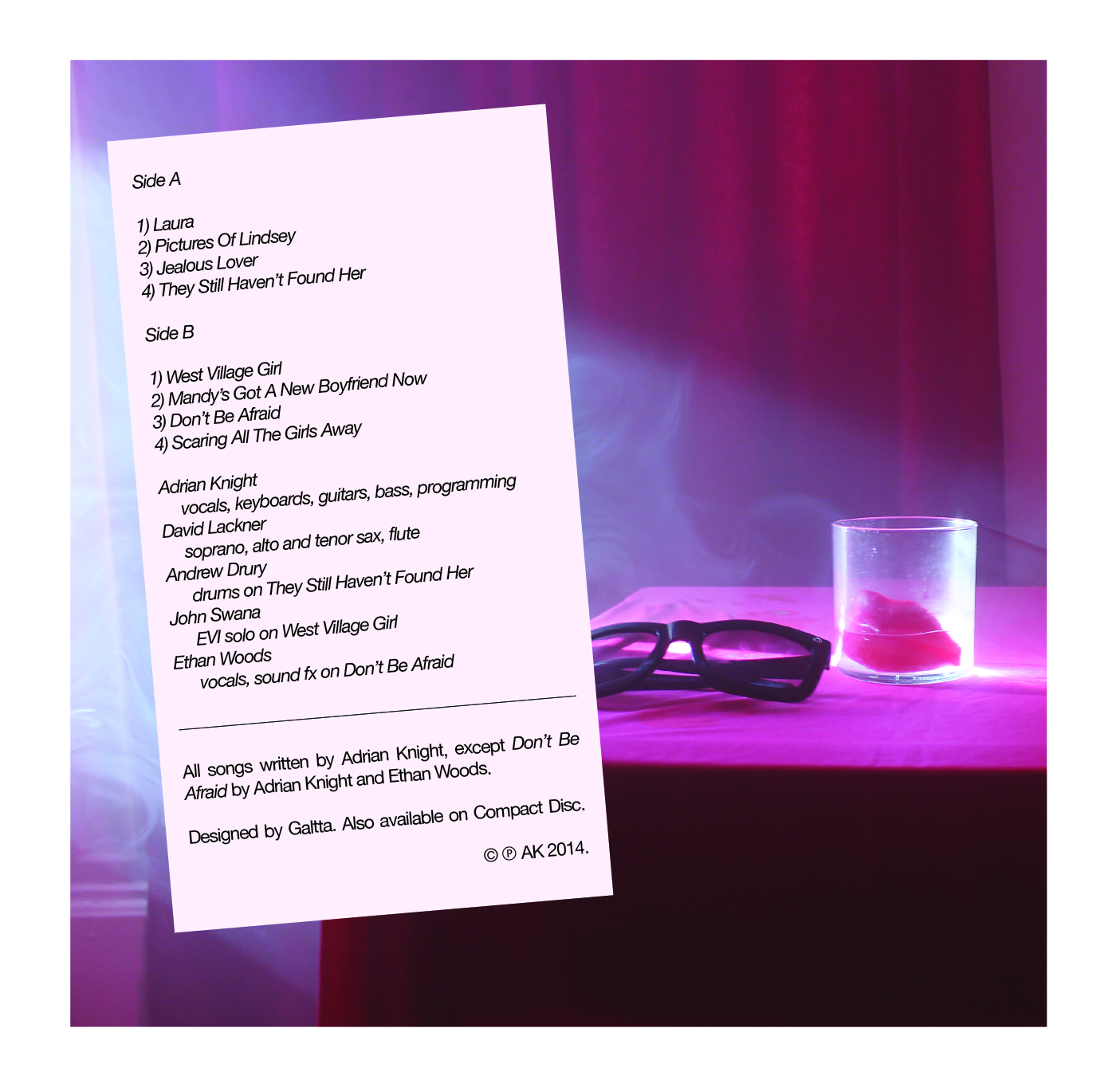 ---
01 Laura
02 Pictures of Lindsey
03 Jealous Lover
04 They Still Haven't Found Her
05 West Village Girl
06 Mandy's Got A New Boyfriend Now
07 Don't Be Afraid
08 Scaring All The Girls Away
Adrian Knight
lead vocals
backing vocals
keyboards
synths
guitars
bass
programming
percussion
engineering
mixing
mastering
David Lackner
soprano sax
alto sax
tenor sax
flute

John Swana
EVI solo on 05

Ethan Woods
vocals, fx on 07
---
︎︎︎Press
‹‹ Tiny Mixtapes (Strauss) ››

Synths glitter like lights off a disco ball on this, the single weirdest fucking tape of 2014, written by a guy named Adrian Knight. He's a hep jazz cat, a part of that hep jazz cat scene David Lackner's been hovering around for his Galtta label's tape releases in New York. So as you might expect, the performances here are just fabulous, really tasty Rhodes and Wurlitzer work atop some clever but simply constructed electronic drums that set the vivacious vibe you get throughout this album. A lot of the tunes are just plain nice, like in a James Taylor sort of way (that's good James Taylor, mind you), or reminiscent of Arthur Russell's stuff with the Flying Hearts, where his love of country, disco, and rock 'n' roll all comfortably colluded in the 70s for pop song perfection. But Knight's compositions are also cut with creepy interludes and often have pitch-shifted vocal hooks which gives this album a surreal, sometimes nauseating quality that plug it nicely into the modern tape weirdo scene as well. Lackner guests with some nice sax arrangements here, and there's also a cameo from EVI champion John Swana to give some songs a flavor that's pinker than Pepto. And for as smooth a number Knight most certainly seems to be, his lyrics sure paint the picture of someone who's anything but: "Scaring All the Girls Away," which closes the album, is a hilarious and humble spate of self-deprecation set to a flat-out sex-jam that also has me thinking this aligns with what folks like Scammers' Phil Diamond are doing. The nerds have never been sexier than in 2014, ladies (and gentlemen), scoop these bachelors up while you can.
---
‹‹ The Isolatorium (Brad Rose) ››
Galtta has been a label I've long admired so I was thrilled to see their return with two new releases earlier this month. While I haven't had time to fully digest either, this Adrian Knight album is a glorious mindfuck and I think I'm going to end up loving it. There's a level of absurdity to Pictures Of Lindsay but these songs are so well-written and there's a real Arto Lindsay (h/t Crawf) vibe happening that I can't get enough of. Galtta continues to impress (and totally surprise) and we're all better for it. Also don't forget to check out the new David Lackner.
---
‹‹ Tome To The Weather Machine ››

Easily the most-listened to tape I received in 2014 is one that I ended up calling "The single weirdest fucking tape of 2014" in a review earlier this year. What the hell was I talking about? In fact, there were few that were more obscenely normal this year in a lot of ways, which of course was what was so fucking weird about it. Knight's over-the-top arranging, here complete with saxophone and EVI appearances, screamed self-ridicule, especially when you consider the album is a concept record detailing Kinght's many failures in the land of love, the whole thing this completely jokey schmaltz-fest. But that schmaltz-fest is just so brilliantly composed, performed, and flat-out great, offering some of the catchiest moments of pop in 2014, melodies and themes I still find myself humming in my dreams. Everyone I've shown this to has said "Ariel Pink" to me, and that's fine I guess, although Adrian Knight is like 10000000x better.
---
‹‹ Complete Music Update (Aly Barchi) ››
NYC-based cad and sax-pop dark lord Adrian Knight's latest item on show is 'Pictures Of Lindsey', a brilliantly oozy, woozy, boozy collection of nighttime stories and synth-slimed
'sex jams'
he released via the Galta [sic] label a bit earlier this year.
Disciples of Ariel Pink, and/or Sean Nicholas Savage, and/or R Stevie Moore, and/or slow-like-honey pop songs, and/or natural and fairly odd songwriting, will like it, and him. And so will everyone else.