Date
2019.12.12. (CD)
2014.09.01. (Digi)
Label
Thanatosis Produktion
Publisher
Adrian Knight Music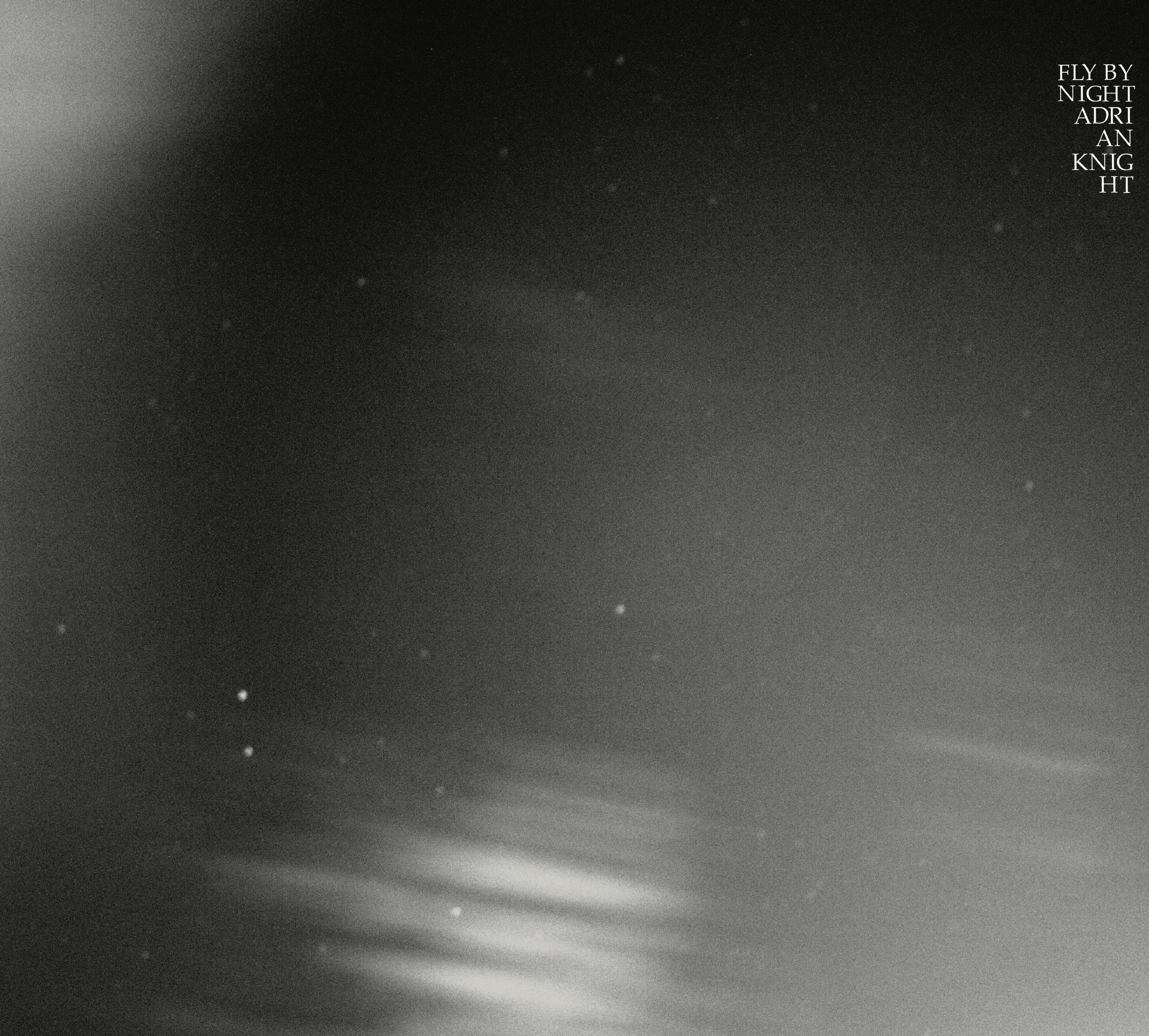 ---
CD1

01 Ohio Standard (For Scott)
02 Pink Pamphlet 4
03 Comblé (Prototype)
04 Abide With Me

CD2

01 Downwind
02 Midnight Zone
03 Fly By Night
04 Till Minne Av (Prototype)
05 Pink Pamphlet 5
Adrian Knight
electric guitar
voice
Rhodes
percussion
tape and digital treatments
engineering
mixing
mastering
typesetting
cover photo
Made with support from the Swedish Arts Council.

︎︎︎Note

Originally disseminated as a digital-only release on my now dormant label Pink Pamphlet in 2014, 'Fly By Night' now gets a proper release via the Stockholm label Thanatosis Produktion. Since my early 20s the electric guitar has been a constant companion and assistant in my compositional work. Although I'm a much better pianist than guitarist, I've often found my relatively poor "fretboard awareness" to be a valuable asset in terms of focussing my intuitive hearing away from my more analytical hearing.

A home recordist, I am constantly documenting and capturing ideas as they arrive, as part of the process of writing pieces, or as self contained experiments. Some of the resulting odds and ends, sketches, ideas and studies are collected in this 2-CD set, amended by a new addition to the 'Pink Pamphlet' series of recordings with a cameo by David Lackner on saxophone. While the album is predominantly a travelogue of my guitar explorations, with two "prototypes" for pieces that later became orchestral works ('Comblé' and 'Till Minne Av'), I've included a few recordings with other instruments that live in adjacent territories. Insomuch that the recorded music presented here does not represent a documentation of preexisting musical texts, but indeed the pieces themselves – chance moments of layered sequences coalescing into harmonic contexts I could otherwise not have envisioned – this release is a departure from my usual approach and hopefully of interest to both intuitive and analytical listeners alike.

—Adrian Knight

---
︎︎︎Press
‹‹ Toneshift (TJ Norris) ››


By way of electric guitar and voice with percussion, tape and digital treatments, this is my personal introduction to Brooklyn-based Adrian Knight who recorded
Fly by Night
between 2009-2014. It's a moody array of moving light, spaces filling with dim, undulating shades of ambient waves over the course of two full discs. In many ways his sound emulates sacred traditional music, like Gregorian chant to an extent, laying low and elongated like an El Greco painting.
Full of cool, quiet passages and mystery-laden moments, tracks like
Combile (prototype)
nearly disappear into thin air, but reflect our surroundings and the typical random whitenoise experienced on a daily basis. With the addition of some low-lying textural/surface noise the mood shifts to a warmer, more exploratory place. But it only acts as a bridge that leads to further sinewy cadences that are mostly restful.
Elsewhere Knight's compositions resemble the blurred lines of classical music, in general. For all its lush, marshmallowy billow there's an underlying wistfulness, particularly brought out on the crestfallen
Abide with Me
. The piece, though within bass range lows has its grounding, it seems as though the flow is slowly wearing away.
On disc two of this nearly two hour journey,
Downwind
seems slightly more up at first. It's a delightful, almost whimsical (dare I say with a folky tinge) styled piece. There is this constant sense of pulling away, of distancing throughout, yet this is as close to an embrace that comes forth on
Fly by Night
. After some glowing strum and near new agey tones on the lightweight
Midnight Zone
, incoming is the title track that perfectly shifts this disc into a bit of a grey area, a fog if you will. It's dark, and becoming thicker and less visible with every moment of its near fifteen minute run time. With only the vaguest glints of light this composition is by far the most minimal on the record, aptly titled.
By now my body has been rendered lethargic, almost a trance like state of mind. That is the power of music, it's impact on the body – one of the most important factors that sound offers. We go deeper, still, into the just barely swirling
Till Minne Av (prototype)
, and at twenty-three minutes there is plenty of time to slow your world to a humming crawl. It's like watching honey being poured in slow motion. By the end of this luminous work it is as though two bodies are parting, maybe humans, maybe parts of a spacecraft moving deeper into the astral plain. The tension is the way in which it boggles you mind if you think too hard, remember, this is far more experiential than a typical song structure.
To close out the proceedings Knight's
Pink Pamphlet 5
emerges like a bit of a mutation on the whole, with reversal loops and other slight effects that are, well, very effective. These new manipulations, common on many other records floating out there in the ether, seems to pop here given the otherwise sleep concert-like style and flow, and just by adding these tweaks and almost Hawaiian rhythms on the final act seems unique. Like a big breath, like moving from one defined temperature/setting to another. Actually after the title track, this, to these ears, is the other standout on the record. It drifts in the way Vangelis' soundtrack for
Blade Runner
did so lucidly. But Knight one-ups the old master with the most nuanced sonic manipulation, smooth and delusional, kind of like what you'd imagine an embryonic state to sound like. A sleeper.
---
‹‹ Nutida Musik (Tim Rutherford-Johnson) ››
The double CD
Fly By Night
by Brooklyn-based Swedish composer Adrian Knight is hard to grasp. This is music whose every corner, every edge has been sanded down to a thin cloud of dust. Its resonant washes of electric guitar, gently articulated melodies and nostalgic harmonies are attractive, but there is little at first for the critical ear to grip onto. (Although 90s kids like me will appreciate the distant echoes of shoegaze bands like My Bloody Valentine and Seefeel, as well as the dark comedown of Aphex Twin's
Selected Ambient Works Volume II
.) I started with the titles. Two,
Pink Pamphlet 4
and
Pink Pamphlet 5
are evidently part of an ongoing series (
Pink Pamphlet 2
, for example, appears on Knight's 2011 release
Time of My Life
). Two more –
Comblé
and
Till Minne Av
– carry the subtitle 'prototype'. And one,
Abide with Me
, is named after a well-known hymn.
The two prototypes offer a clue. Knight describes the whole of
Fly By Night
as a collection of 'odds and ends, sketches, ideas and studies' gathered and documented through home recordings.
Comblé
and
Till Minne Av
would eventually become fully notated orchestral pieces, and many of the tracks here are reverberations or pre-echoes of other works in Knight's catalogue. But that is not to say that these are ephemeral or half-formed: the notion of transcribing, capturing and transforming fleeting moments is a part of Knight's working process; every gestational stage is a valid part of the music's life journey.
Abide with Me
, another track with a life as a notated instrumental score, began as an improvisation on the famous hymn tune 'Eventide' by William Henry Monk (and released on
Time of My Life
), which Knight then transcribed into a work for solo piano. The incarnation here for guitar is played at half speed, draped – like so much of the album – in loops of reverb and harmonic drone.
Abide with Me
brings to mind another appropriation of Victorian hymnody, Gavin Bryars'
The Sinking of the Titanic
, in which the Episcopal tune 'Autumn' (thought by some to have been the last music played by the
Titanic
's band as the ship sank) is slowly submerged under layers of reverberation and ocean sounds. The robust four-square phrases and sentimental harmonies of those Victorian hymns make them suitable for such transformations (I'm reminded too of the microtonal evolution of 'Amazing Grace' in Ben Johnston's Fourth String Quartet). Knight's electric guitar performance is an interpretation of an interpretation of an interpretation, far removed from its source, but there's still something familiar and reassuring behind the gauze of harmonics and reverberation: a faint echo within the echoes.
Echoes are really the subject of this record. Echoes of course in its surface sound. But echoes too in the relationships to other versions of these works, and between the works themselves. The tonal groundedness of
Abide with Me
makes it a form of anchor to the whole set, but the ripples outwards cross and recross so many times – like the shapes that blow across a flock of birds – that a centre cannot be pinned down. Instead, peaks and eddies, each a step or two away from this point: the disconcerting
Ohio Standard
, whose harmonic changes somehow simultaneously console and unsettle; the comparatively dancing rhythm of
Downwind
; the chiming arpeggios of
Midnight Zone
, some of the only clear attacks of the whole record; and the attennuated sounds of the title track, which are stretched almost into oblivion.
One last echo:
Fly By Night
was originally released on Knight's own, now dormant label Pink Pamphlet in 2014. This reissue adds the track
Pink Pamphlet 5
, which features the American saxophonist David Lackner (with whom Knight has worked on a number of other releases). After the small steps between the eight previous tracks – finely nuanced explorations of a common terrain – this final piece opens up the space with digitally treated Rhodes piano and keening sax melodies buried deep in the mix.
---
‹‹ Textura ››

Much of the double-CD release
Fly By Night
sits comfortably within the ambient genre, but it also ventures into other zones. Originally issued as a digital-only release on Adrian Knight's now dormant Pink Pamphlet in 2014, the set's now available in physical form courtesy of the Stockholm imprint Thanatosis Produktion. That the collection ranges across stylistic lines doesn't surprise, given its creator's background. The Uppsala-born and Brooklyn-based Knight isn't an ambient artist per se but a composer, multi-instrumentalist, and active member of multiple groups; his pieces have been performed by the likes of Bearthoven, R. Andrew Lee, Red Light Ensemble, and TIGUE, and his material's been released on Cantaloupe, Irritable Hedgehog, Innova, and Galtta Media. One of the outfits of which he's a member is Synthetic Love Dream, whose self-titled album appeared on Galtta in 2014, and an additional connection to the label comes by way of a saxophone cameo by SLD's David Lackner on "Pink Pamphlet 5,"
Fly By Night
's closing track.
Working with electric guitar, voice, Rhodes, percussion, tape and digital treatments, Knight recorded the material at home; consistent with that much of it exudes an informal, explorative quality, the producer himself characterizing the pieces as "chance moments of layered sequences coalescing into harmonic contexts I could otherwise not have envisioned." However much they might suggest a sketch-like quality, the tracks have a finished feel, even if some are studies and experiments of a kind. Guitar explorations are central to the project, but recordings made with other instruments also appear.
At twenty-seven and twenty-three minutes respectively, "Abide With Me" and "Till Minne Av (prototype)" naturally tower over the other seven pieces, which range from three to fifteen minutes. With a throbbing bass as an insistent undercurrent, the first of the two wends its ultra-minimal way serenely, its stark presentation evoking the near-silence we associate with deep space; the other's even more becalmed, its stripped-down design allowing glistening guitar textures ample room to ebb and flow. The longer meditations are nicely balanced by shorter ones, the briefest of which, "Downwind," engages for its subtly supplicating, almost hymnal tone—even if it ends rather too abruptly. "Midnight Zone" appeals for the naturalness of its timbres, electric guitar and Rhodes shadings here combining for seven minutes of soothing calm.
Elsewhere, Knight augments the hushed ambient tones drifting through "Ohio Standard" with tiny accents of static, the treatment making the material sound as if it's emerging from a vinyl as opposed to digital or CD surface. "Pink Pamphlet" individuates itself by underpinning its subdued drift with wordless vocal textures that lend the soundscape a ghostly melancholy, whereas "Comblé (prototype)" accomplishes something similar by giving its cavernous reverberations a faint industrial tinge. At album's close, "Pink Pamphlet 5" changes things up in presenting a somewhat New Age-styled facade, with steel guitar-like phrases intermingling with angelic vocal whispers and, near track's end, the purr of Lackner's sax.
An outdoors field recording makes its presence felt midway through "Comblé (prototype)," but for the most part
Fly By Night
keeps the outside world at bay, its focus primarily on instrument sounds and treatments thereof. While the drifting quality permeating the set intimates Knight let its pieces develop intuitively and in real-time, the material's not aimless but instead unfolds according to a perceptible inner logic in tune with the guiding sensibility of its creator.
---
‹‹ Nitestylez ››

Put on the circuit via the Swedish label Thanatosis Produktion on December 12th, 2k19 is Adrian Knight's "Fly By Night" - an actual 2CD album re-issue of the former digital only piece, released via the artists very own Pink Pamphlet imprint back in 2014 which has now been picked up by Thanatosis Produktion label manager (and artist...)
Alex Zethson
for a wider audience of Ambient headz and Deep Listening Music connaisseurs. Presenting a total of nine tracks stretched over the course of two CD's and a total of 106 minutes we see the Brooklynite Adrian Knight indulge in the sheer beauty of Ambient sounds, creating a calmy moving stream of harmony and imminent heavenly melancholia within each and every track, a rich and soothing, comforting soundscape of reduced and masterly sculpted, yet never minimalistic nature, providing a soundtrack for deep reflection and solemn meditation that deserves to find a home in every Ambient lovers collection for a reason as it's as tender and gentle as it can get. Check.
---
‹‹ Salt Peanuts (Eyal Hareuven) ››

Swedish, Brooklyn-based multi-instrumentalist-composer-Pink Pamphlet label owner Adrian Knight offers about 100 minutes of guitar explorations travelogue on his solo album «Fly By Night». Knight says: «Although I'm a much better pianist than guitarist, I've often found my relatively poor 'fretboard awareness' to be a valuable asset in terms of focusing my intuitive hearing away from my more analytical hearing».
«Fly By Night» suggests an insight into a composer daily routine and his works-in-progress, based on his experiments on the effects-laden guitars. The album collects home recordings made in Brooklyn, New Haven and Stockholm between 2009 and 2018. Knight recorded his raw and intuitive sonic ideas as they arrive, «chance moments of layered sequences coalescing into harmonic contexts». He charges all the nine pieces with elusive veins of navigating in a time zone outside real time, fitting very late nights, imaginary or real flights and dreams.
«Fly By Night» begins with three minimalist, soundscapes – the atmospheric «Ohio Standard (for Scott)»; linked organically into the celestial «Pink Pamphlet» and the darker «Comblé», a prototype for an orchestral work. The 27-minutes «Abide With Me» dives even deeper with its slow-evolving, layered, dreamscape.
«Downwind» and «Midnight Zone» offer richer spectrum of sounds, including voices, Fender Rhodes in addition to the gentle, atmospheric guitar lines. The title-piece returns to to the minimalist vein, but distils even further its sonic presence only to the bare sonic contours. The second, prototype for an orchestral work «Till Minne Av» charges this soundscape with a fragile, spiritual layer. The last «Pink Pamphlet 5» with the twisted, processed sax sounds of David Lackner surprises with breezy guitar lines that introduce some sun light to this experimental but highly accessible nocturnal travelogue.
---
‹‹ Vital Weekly ››

With two double CDs this quite the introduction to two musicians I never heard of, as well as introducing me to a new label from Sweden. I started with the release by Adrian Knight, who, despite his English sounding name) was born in Uppsala (Sweden) and who is a member [of] Blue Jazz TV, Private Elevators and Synthetic Love Dream; his compositions are performed by a whole bunch of ensembles and his recordings can be found on such as Galtta Media, Cantaloupe, Irritable Hedgehog, Perfect Wave, Slashsound, Innova and Pink Pamphlet, the latter an enterpriseof his. In 2014 he released 'Fly By Night' as a digital-only release on that imprint, but now it is in physical shape on Alex Zethson's Thanatosis Produktion. While Knight is mostly a pianist he plays the guitar here, also with "voice, Rhodes, percussion, tape and digital treatments". One track includes the saxophone by David Lackner. The first disc has four compositions, which made me think that none of the instruments mentioned played a role here. The music was very much a work of ambient proportions and quite dark. And yet, to simply classify this as dark ambient is perhaps not the right justification. It is dark but also mellow music; sounds flow, as in what the word flowing properly means; the glide very slowly like slow clouds on a winter's day. I have no idea how Knight operates and if this music is the result of some long process of putting various long sequences together, or if this is the result of spontaneous, impromptu playing, with some touching up later on. As I said, I have no idea if what way he uses his instruments and technology to achieve this sound, but all the instruments seem to have been perpetually slowed down, with the odd exception here
and there, when a guitar tinkles away. It is some ninety minutes of very good ambient music, an also not really surprising ambient music (but I don't expect that anymore, I guess). The cover is grey, the day is grey and Knight has the right soundtrack for us.