Movements
Not A Cloud In The Sky
Lonely Nights (I)
Beautiful Wives
Lonely Nights (II)
Run And Hide
Inventory
el gtr, perc, live electr
Commission

The Living Earth Show
Premiere
March 4, 2012
San Francisco Conservatory Of Music
San Francisco, CA (US)

The Living Earth Show
Andy Meyerson, perc
Travis Andrews, el gtr
---
︎︎︎Detailed Inventory
electric guitar
with digital delay (e.g. Boss DD6)
volume pedal (mono)

percussion
vibraphone

crotales
orchestral bass drum
sizzle cymbal
chinese cymbal
suspended cymbal
4 metal bowls (kitchen bowls) of varying pitches
midi keyboard (min. 25 keys) to trigger the interludes

beaters:
soft timpani sticks
soft mallets
medium mallets
brushes
computer/laptop with Logic Studio
USB/Firewire audio interface (min. 4in, 2out)
2 microphones (to amplify the vibraphone)
2 loudspeakers (PA speakers or studio monitors)
guitar amplifier (optional)
---
︎︎︎Image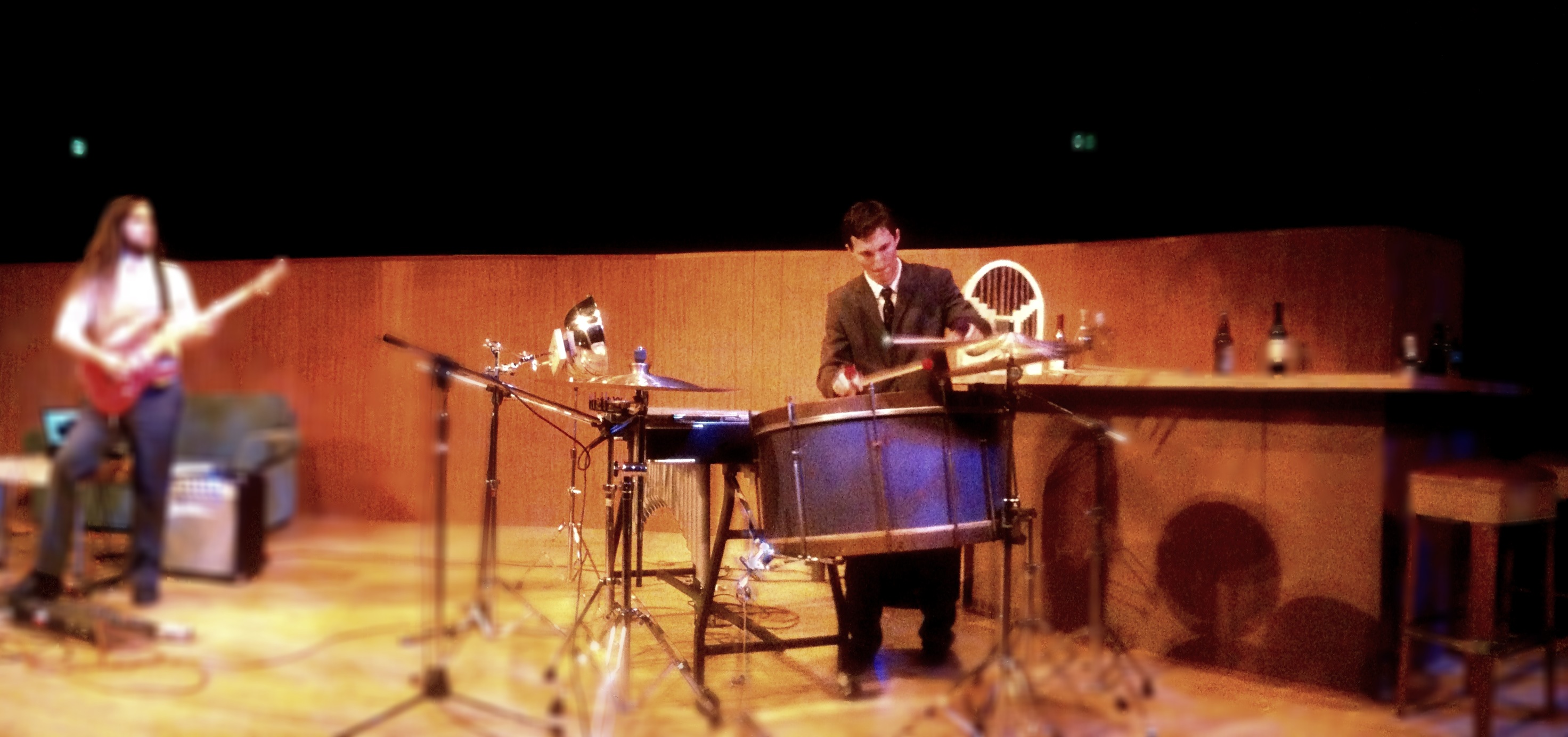 ---
︎︎︎Note
He is there at the stadium. He's mowing the lawn. He never left. He is our father and the best friend we'll ever have. Walking across the green, looking up.
And Glenn Miller.
***
"Family Man" was commissioned by Travis Andrews and Andy Meyerson of the California-based electric guitar and percussion duo, The Living Earth Show. The piece is in five scenes with four electronic interludes:
1. Not a Cloud in the Sky (Interlude1)
2. Lonely Nights (Interlude2)
3. Beautiful Wives (Interlude3)
4. Lonely Nights (Interlude4)
5. Run and Hide
The piece is dedicated to my friend Samuel Adams.
---
︎︎︎Press
"while guitar spurts into the sky like sherbet powder – fizzing with the fantasy of romance – cymbals roll out like a rug of sonorous blurs, ready to catch the jubilation on the inevitable way down" —ATTN:Magazine (12/2013)
"Knight's
Family Man
, an episodic work that, taken as a whole, paints a curious American landscape filled with nostalgia and decay, violence and melancholic solitude. The brief movements or snapshots are separated by live-triggered samples of the sound of a slide projector and languorous big band dance music, and as the interludes cut off abruptly the listener is deposited into another place in the expanse." —New Music Box (12/2013)
"Exotic sounding chimes link hands with fragments of soulful jukebox nostalgia, and the guitar's attack envelope is manipulated in Ralph Towner style, garlanded with twee tinkles from the percussionist. After 10 minutes we sort of get the message, but the set-up is for a quasi-subliminal horror transition and heavenly apotheosis which makes it all worthwhile." —MusicWeb International (12/2013)
---
︎︎︎Score Excerpts